The goal of distance learning is to engage all students in meaningful material in these unprecedented times. The goal for learning during the coming weeks is to continue to build skills that students have been developing in their classes. While this alternative setting may present challenges, teachers will be doing their best to create learning experiences that promote a sense of curiosity and wonder in students about the world around them.

During this time, HCPA encourages all students to not only engage with the material provided by their teachers, but to find time to read a new book, take a digital field trip to a museum, play a new math game, and find ways to stay active. (See resources at the bottom of the document or the school website.)
Click on any of squareboxes below to access different department, schools or material.
General Information
Teachers will be available for 8 hours each day between 8 a.m. and 8 p.m. Due to family responsibilities, their hours will vary. However, all teachers should be available for the duration of the student learning bell schedule (8:00 a.m. to 1:30 p.m.)

Technology Support

During the time of distance learning HCPA will be providing technology support in two ways.

● Students and/or parents in need of technology support can email the technology department at itsupport@hcpak12.org and/or schoology@hcpak12.org and someone from the department will respond as soon as they are able. When emailing HCPA please include the following to better support the student.

○ Name of the student
○ Grade and ID of the student
○ Name of student's homeroom teacher if in grades 3-5
○ Short description of the issue
● Students and/or parents can call the main office and then extension 8565 or Jenee Nordstrom at 651-347-8268 to help provide the support needed.
● If equipment stops working or if there are hardware issues, the technology department will set up appointments for parents to come to the school and swap out the non-functioning device for one that is working.
Distance E-Learning Support Team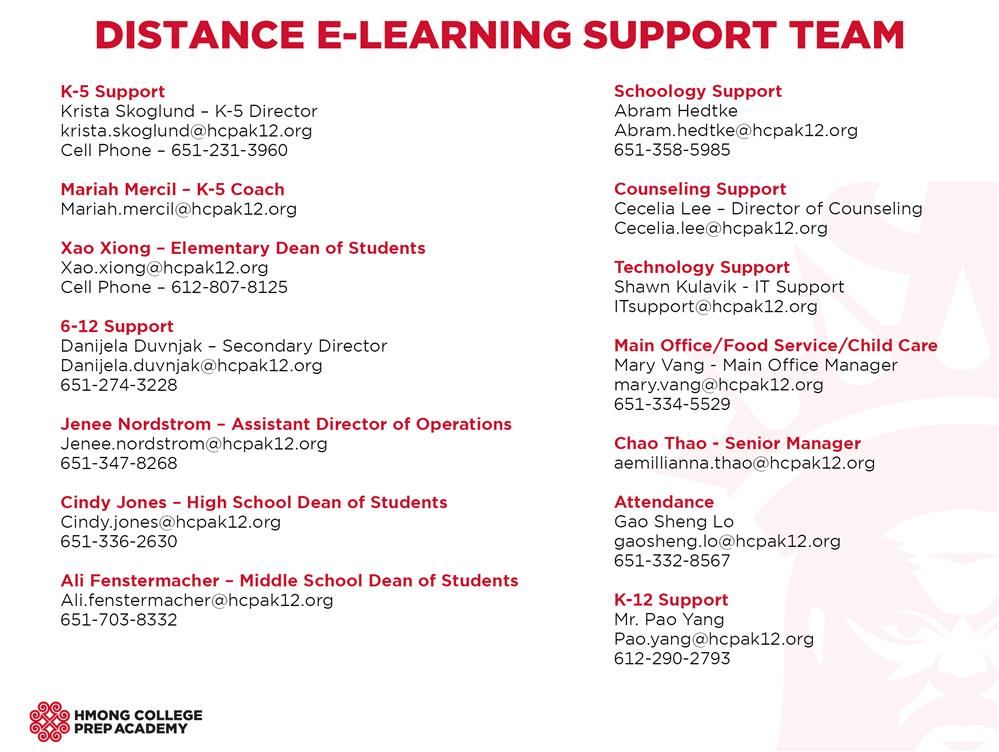 Need Translation Help?
Need a translator? Please contact your teacher, we are ready to help.
Nrhiav kev pab? Hu rau koj tus xibfwb.