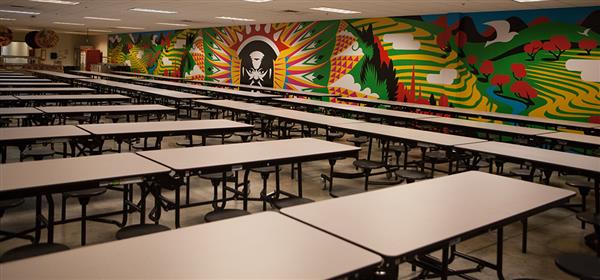 Overview of HCPA's Food Service Program
On Monday, August 31, 2020, U.S. Department of Agriculture (USDA) Secretary of Agriculture issued a press release announcing an extension of the flexibilities to enable operation of the Summer Food Service Program (SFSP) into the fall months.

On Friday September 4, 2020, Minnesota Department of Education (MDE) adopted the extension and gave school district the options to run their food service program under the Summer Food Service Program (SFSP) now through December 31, 2020. Under the SFSP, all student qualifies to receive meals at NO CHARGE.

HCPA will have meal distribution every Mondays from 10:00 AM – 6:00 PM. If you wish to pick up meals for your children, you don't need to call in. Parents can just come between the hours of 10:00 AM – 6:00 PM to pick-up. Please park your car outside of door B and remain inside your car. Staff will bring out your meals.

Each student will receive a box worth of 5-days breakfast and lunch meals. Meals will come frozen. Inside the box, there will be heating instructions and nutrition information.

If you have any questions, please call 651-209-8002.
Preferred Mealtime
Learn more about our food menu this year!
HCPA Breakfast, Lunch and Snacks!
Why HCPA Breakfast and Lunches are so Good:

Fresh fruits and vegetables are delivered and prepared daily.
Our rice is prepared fresh daily for both breakfast and lunch.
Some of our specialties are: Pho, Curry Noodle Soup, Chicken Laab, Hmong Sausage, Chicken, Pork or Beef Stir Fry, Hmong Chicken Drumsticks, Rice Noodle Soup (Kaopia) and our Hmong Rice soup (Mov qua dis) that our cooks arrive at school at 4 in the morning to prepare this for our students...by scratch....of course we have many American favorites too.

Food Allergies

If your child/children have any food allergies or food restrictions, please contact the Health Office immediately at 651-209-8004

Breakfast and Lunch Time

Breakfast is served from 7:30 AM until 8:30 AM. Students will have approximately 20 minutes to eat breakfast.
Lunch Periods--HCPA has four lunch periods (11 AM, 11:30 AM, 12 PM and 12:30 PM).

Fresh Fruit and Vegetable Program

All K-8 students receive a complementary nutritious snack (fruit/vegetables) during the school day.

CACFT - Child and Adult Care Food Program

After School Enrichment Activities: Tuesdays and Thursdays
Nutritious dinners are served from 3 PM until 3:30 PM for all enrichment participants

In accordance with federal law and U.S. Department of Agriculture policy, this school is prohibited from discriminating on the basis of race, color, national origin, sex, age or disability. To file a complaint of discrimination, write USDA, Director, Office of Civil Rights, 1400 Independence Avenue, SW, Washington, D.C. 20250-9410 or call (800) 795-3272 or (202) 720-6382 (TTY).
Summer EBT Information
The U.S. Department of Agriculture (USDA) has approved Minnesota's summer P-EBT plan! Summer benefits will be distributed in one payment of $430 if your family qualifies for free/reduced lunch.

Please fill out the Applications for Educational Benefits online at www.schoolcafe.com/hcpa, or return the paper copy to school by September 3, 2021, in order for newly eligible students to be considered for summer 2021 P-EBT.

For any questions, please call Blia Her at 651-209-8002.
Lunch Form and Policy Library