Hmong College Prep Academy Launches Robotics Team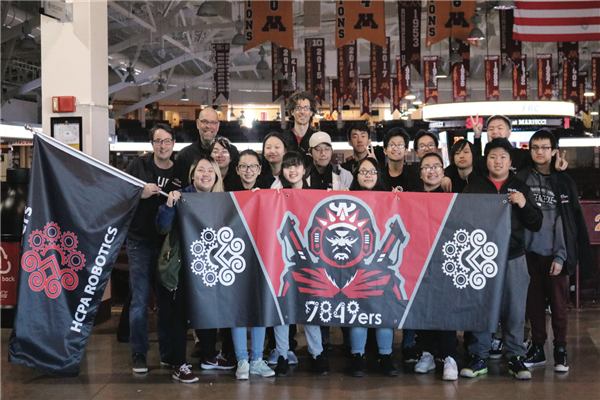 Hmong College Prep Academy Launches Robotics Team
St. Paul, MN—Hmong College Prep Academy recently announced the launch of the school's first robotics team.
According to FIRST (For Inspiration and Recognition of Science and Technology) Robotics--the international governing body of high school robotics, "Robotics combines the excitement of sport with the rigors of science and technology. Under strict rules, limited resources, and an intense six-week time limit, teams of students are challenged to raise funds, design a team 'brand,' hone teamwork skills, and build and program industrial-size robots to play a difficult field game against like-minded competitors. It's as close to real-world engineering as a student can get."
Nearly 8,000 teams compete worldwide in FIRST Robotics programs. Minnesota is the home to over 200 teams.
Studies show there are many benefits for students who participate on their high school robotics team, including:
2 times more likely to show gains in STEM courses.
Significant increases in STEM-based knowledge.
6 times more likely to enroll in an engineering course during their freshman year of college.
"We've been floating around the idea of a FIRST Robotics team for a few years now; however, the costs and space requirements have always deterred us from approaching it," stated Robotics Business Team and Executive Master Coach Ryan Lester. "This year, we were approached by the head of the Minnesota FIRST Robotics Chair to see if we'd be interested in starting a team. He helped us secure initial funding through a FIRST scholarship and corporate partnership with Pentair."
Along with Lester, two additional coaches oversee the HCPA robotics team. High school science teacher Ross Winberg coaches the Coding Team and STEM instructor John Milam coaches the Build Team. 20 students in grades 9-12 are participating in this year's inaugural season.
Lester talked about the support the team has received from school administration, and outside sponsors.
"HCPA staff and administration have been great. School Chief Operating Officer Mr. Pao Yang and Superintendent Dr. Christianna Hang, along with administration, have agreed to help pay for much of the program's costs. Additionally, they've allocated a large area behind the auditorium to build a robotics shop. This project required the school's engineers and our Build Team to collaborate to make a viable workspace. We also have three additional sponsors—FIRST Robotics, Pentair and Seagate."
He added how the members of the community have come together to support the team's inaugural efforts.
"We also have mentors from a variety of fields. The Business Team has Joe Brudlos doing graphic design and Vivian Chow helping with fundraising and business management. On our Coding Team, we have Noah Sevett, Jonathan Gettler, Ted Kaminsky and Shaomong Zhang. They're helping our students learn Java. On our Design and Build team, we have Fred Heim helping students brainstorm, design and assemble the robot and Mark Kraabel teaching students how to use a CAD 3D program to design the robot. We also have Ross Winberg putting together and advertising a Donors Choose page that has helped us purchase equipment for our shop."
HCPA's Robotics Team will take part in the Minnesota NorthStar Regional at Williams Arena the weekend of March 27th-30th. Interested parties can follow the team's journey on Twitter (@7849ers), Facebook (HCPA's FRC 7849ers) and YouTube (7849ers Robotics).
"If a company is interested in developing a corporate partnership with our team or individuals are interested in becoming mentors, they can contact us via email at 7849ers@apps-hcpak12.org," added Lester. "Our Business Team will contact you to make arrangements for a meeting and answer any questions you may have."